The Significance of Christ's Ascension For Christian Worship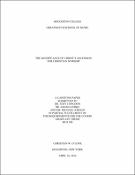 Abstract
The nature of this paper was to provide theological and musical support for the planning and preparation of a hymn festival that was performed on April 14th, 2016. The capstone paper and hymn festival was in partial completion of the Master of Arts in music, from the Greatbatch School of Music, at Houghton College. Research methods utilized were historical, experimental, and observational. The content of this paper includes theological and liturgical significance of Christ's ascension, and an outline of and reflection on the hymn festival.
Keywords
Hymn festivals
,
Jesus Christ--Ascension
,
Worship programs
Rights
Authors retain the copyright for all content posted in this repository. This material may not be published, reproduced, broadcast, rewritten, or redistributed beyond the Houghton University community without permission except in accordance with fair use doctrine.